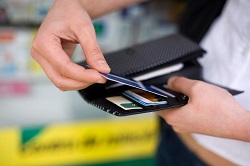 I wouldn't call myself an expert, but if there is one thing I'm good at..I know all the best credit card deals & benefits. I would go to a restaurant with my friends and my eyes are wide open at the end of the meal. Not that I'm the nosy type, but I'm always curious what credit cards my friends carry in their wallet. Most of them don't even know I've been writing about credit cards for the past ten years, and I can usually recite all the benefits of each card. I would then recommend them on certain credit cards depending on their spending habits and personality. There is no one size fit all for credit cards recommendation..but here goes:
3 Types of Credit Card Holders:
The Lazy I-Don't-Care-Just-Give-Me-One-Card: These type of people don't want to hold 2 or 3 cards, much less 10! They don't have time or care much about maximize on spending. They don't want to think about which card to pull out for certain categories. They simply only want ONE card to do everything.
Citi Double Cash Card – this is pretty much a 2% cash back card on ALL purchases. It doesn't matter if you are eating out, shopping online, or purchasing gas, this is a simple 2% cash back MasterCard that is accepted everywhere.
Other 2% or more cash back cards to consider are Amex Fidelity($50 bonus, but not accepted everywhere), JCB Marukai(3% but only for CA, HI, NV, OR, & WA residents), and FNBO BucksBack Visa Card(only for CO, IL, IA, KS, NE, SD, & TX residents).
The I-Can-Do-3-Cards-Only: These type of people don't want the hassle of carrying too many cards, but they are willing to keep 3 cards in their wallet to get more bang for their bucks. Again, it's not a simple Must-Be-These-3-Cards-Scenario but what do you emphasize the most in terms of cash back or points.
Option 1) Citi Double Cash, Chase Freedom, & Discover It – You get 5% cash back on rotational categories each quarter such as gas, Amazon.com, supermarkets, etc using Chase Freedom and Discover It. Then 2% for everything else with the Citi Double Cash.
Option 2) Citi Double Cash, Amex Blue Cash Preferred, & PenFed Platinum Cash Rewards – This is for people who want certain categories all year round. Blue Cash Preferred give you 6% cash back up to $6K per year at Supermarkets, and PenFed Cash Rewards gives you 5% cash back for Gas at the pump. There are other 5% options too depending which categories you spend the most on.
Option 3) Citi Double Cash, a Hotel Card, & an Airline Card – Some people prefer to earn certain points or miles loyalty program since they travel so much and prefer to cash it for a free flight or stay. Some great hotels cards include Amex Starwood Preferred, Hilton HHonors Visa Signature, & IHG Rewards Club, then you have Airline cards such as Southwest Premier & Citi AAdvantage.
The Apply-Everything-Crowd: These type of people are what issuers hate the most. They have good credit and they want to use their credit score to maximize on EVERYTHING and earn free money. Whenever there is a new credit card bonus, they would sign up- usually at least $200 free money, get the bonus money by meeting the spending requirement, then move on to the next one.
However, this is no longer the right strategy even if you have good credit. 1) Issuers are cracking down such as American Express' One bonus per lifetime rule or Chase 5 – 24 rule whereas you can only have 5 cards maximum within 24 months from ALL Issuers and not just Chase. I recommend to look for only the best cards which suit your needs, so check out the list for all the best credit card promotions.